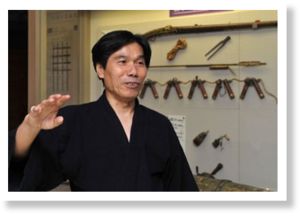 A 63-year-old former engineer may not fit the typical image of a dark-clad assassin with deadly weapons who can disappear into a cloud of smoke. But Jinichi Kawakami is reputedly Japan's last ninja.
As the 21st head of the Ban clan, a line of ninjas that can trace its history back some 500 years, Kawakami is considered by some to be the last living guardian of Japan's secret spies.
"I think I'm called (the last ninja) as there is probably no other person who learned all the skills that were directly" handed down from ninja masters over the last five centuries, he said.
"Ninjas proper no longer exist," he said as he demonstrated the tools and techniques used in espionage and sabotage by men fighting for their samurai lords in the feudal Japan of yesteryear.