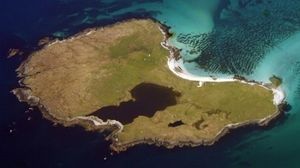 'Incredibly significant find' on tiny island of Boreray is 'is further evidence of the international importance of the St Kilda archipelago'.
Evidence of a permanent Iron Age settlement on one of Europe's most inhospitable islands has been uncovered by archaeologists.
It had been thought that the St Kildan island of Boreray, 40 miles west of the Outer Hebrides in the Atlantic Ocean, had never been populated.
Inhabitants of nearby Hirta island only visit Boreray in the summer to hunt birds and gather wool.
But the new discovery suggests that people may have lived on the steep slopes of the island back in prehistoric times.
The last 36 inhabitants of the St Kilda archipelago left the islands in 1930.
Archaeologists from the Royal Commission on the Ancient and Historical Monuments of Scotland and the National Trust for Scotland made the discovery on an eight-day research trip to Boreray.