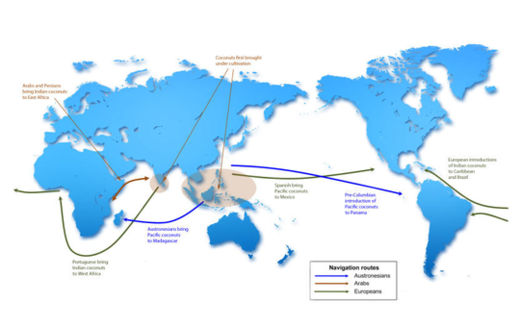 The coconut (the fruit of the palm
Cocos nucifera
) is the Swiss Army knife of the plant kingdom; in one neat package it provides a high-calorie food, potable water, fiber that can be spun into rope, and a hard shell that can be turned into charcoal. What's more, until it is needed for some other purpose it serves as a handy flotation device.
No wonder people from ancient Austronesians to Captain Bligh pitched a few coconuts aboard before setting sail. (The mutiny of the Bounty is supposed to have been triggered by Bligh's harsh punishment of the theft of coconuts from the ship's store.)
So extensively is the history of the coconut interwoven with the history of people traveling that Kenneth Olsen, a plant evolutionary biologist, didn't expect to find much geographical structure to coconut genetics when he and his colleagues set out to examine the DNA of more than 1300 coconuts from all over the world.
"I thought it would be mostly a mish-mash," he says, thoroughly homogenized by humans schlepping coconuts with them on their travels.