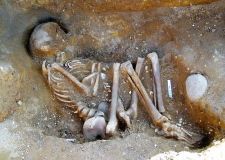 Curled up in her burial pit with her amber beads, an ancient woman's remains show our ancestors farmed a lush Norfolk valley thousands of years earlier than previously believed.
Archaeologists confirmed the significance of the discovery yesterday as work got under way for the summer season at Sedgeford, near Heacham.
Martin Hatton, curator of human remains at the site, was staking out an area of chalk down close to where the find was made last summer, ready for this year's eagerly-awaited dig to begin.
"It was a total surprise to us," he said. "You don't bury people anywhere other than near where they live, so what we can say is that people were farming the land here 4,000 years ago."