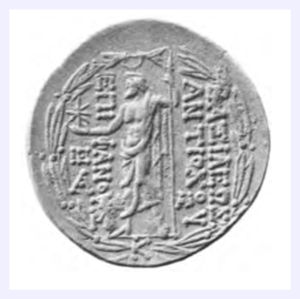 An unusual Greek coin, minted around 120 BC, may have marked a moment in time when people in ancient Syria saw Jupiter being blocked out by the moon.
On one side is a portrait of Antiochos VIII, the king who minted it. On the reverse is a depiction of Zeus, either nude or half-draped, holding a sceptre in his left hand. Above the god's head is the crescent of the moon, and his right arm is outreached with a star like figure (that may in fact be Jupiter) hovering just above his palm.
"Nobody ever re-used this iconography again - it was a one off," said
Professor Robert Weir,
of the University of Windsor in Canada, who presented his research recently at the
annual meeting
of the Archaeological Institute of America.
Antiochos VIII was ruler of the Seleucid Empire, a kingdom created by one of Alexander the Great's officers, after the great conqueror died in 323 BC. By the time of Antiochos this realm was composed of a rump of territory centred on the city of Antioch, in south-eastern Turkey.
The empire had been in decline for some time, with the Parthians gaining territory in the east, the Romans in the west and the Hasmoneans, a dynasty of Jewish kings, coming to power in the south.
Antiochos's rise to the throne was brutal to say the least. His mother was a woman named Cleopatra Thea, and he started his rule having to share the throne with her. "She was a very oppressive, domineering sort of woman as far as we can gather," said Professor Weir. "She had just killed his brother for no good reason."
Perhaps fearing for his own life Antiochos VIII had her put to death in 121 BC, making him sole ruler of what was left of the Seleucid kingdom.