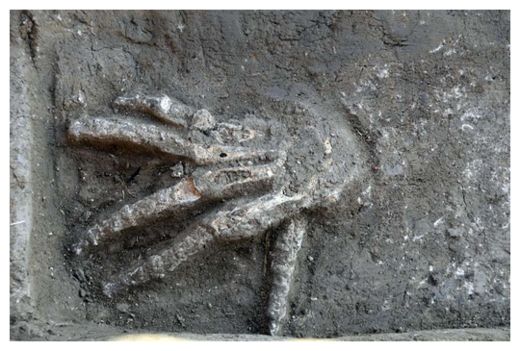 A team of archaeologists excavating a palace in the ancient city of Avaris, in Egypt, has made a gruesome discovery.
The archaeologists have unearthed the skeletons of 16 human hands buried in four pits. Two of the pits, located in front of what is believed to be a throne room, hold one hand each. Two other pits, constructed at a slightly later time in an outer space of the palace, contain the 14 remaining hands.
They are all right hands; there are no lefts.
"Most of the hands are quite large and some of them are very large," Manfred Bietak, project and field director of the excavations, told LiveScience.
The finds, made in the Nile Delta northeast of Cairo, date back about 3,600 years to a time when
the Hyksos
, a people believed to be originally from northern Canaan, controlled part of Egypt and made their capital at Avaris a location known today as Tell el-Daba. At the time the hands were buried, the palace was being used by one of the Hyksos rulers, King Khayan. [
See Photos of the Buried Hands
]