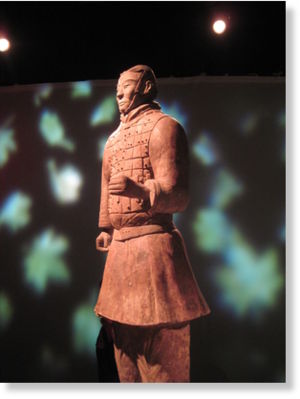 Buried deep under a hill in central China, surrounded by an underground moat of poisonous mercury, lies an entombed emperor who's been undisturbed for more than two millennia. The tomb holds the secrets of China's first emperor,
Qin Shi Huang
, who died on Sept. 10, 210 B.C., after conquering six warring states to create the first unified nation of China.
The answers to a number of historical mysteries may lie buried inside that tomb, but whether modern people will ever see inside this mausoleum depends not just on the Chinese government, but on science.
"The big hill, where the emperor is buried - nobody's been in there," said archaeologist Kristin Romey, curatorial consultant for the Terracotta Warrior exhibition at New York City's Discovery Times Square. "Partly it's out of respect for the elders, but they also realize that nobody in the world right now has the technology to properly go in and excavate it."
The Terracotta Warrior exhibition, featuring artifacts from the Qin dynasty and nine life-size statues from the extended burial complex built for Qin Shi Huang, is on display through Aug. 26. [
Photos: Terracotta Warriors Protect Secret Tomb
]