Two ancient clay tablets from Iraq contain details of a "lost" Canaanite language.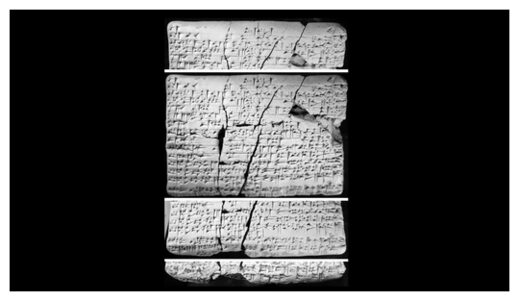 Two ancient clay tablets discovered in Iraq and covered from top to bottom in cuneiform writing contain details of a "lost"
Canaanite
language that has remarkable similarities with ancient Hebrew.
The tablets, thought to be nearly 4,000 years old, record phrases in the almost unknown language of the Amorite people, who were originally from Canaan — the area that's roughly now Syria, Israel and Jordan — but who later founded a kingdom in Mesopotamia. These phrases are placed alongside translations in the Akkadian language, which can be read by modern scholars.
In effect, the tablets are similar to the famous Rosetta Stone, which had an inscription in one known language (ancient Greek) in parallel with two unknown written ancient Egyptian scripts (hieroglyphics and demotic.) In this case, the known Akkadian phrases are helping researchers read written Amorite.
"Our knowledge of Amorite was so pitiful that some experts doubted whether there was such a language at all," researchers
Manfred Krebernik
and
Andrew R. George
told Live Science in an email. But "the tablets settle that question by showing the language to be coherently and predictably articulated, and fully distinct from Akkadian."
Krebernik, a professor and chair of ancient Near Eastern studies at the University of Jena in Germany, and George, an emeritus professor of Babylonian literature at the University of London's School of Oriental and African Studies, published their research describing the tablets in the latest issue of the French journal
Revue d'assyriologie et d'archéologie orientale
(
Journal of Assyriology and Oriental Archaeology
).