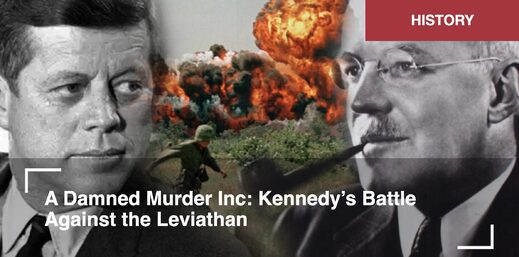 The Eisenhower presidency would see Washington taken over by business executives, Wall Street lawyers, and investment bankers — and by a closely aligned warrior caste that had emerged into public prominence during World War II.
As discussed in
part two
of this series, the war in Vietnam did not start on its official date, November 1st, 1955, but rather 1945 when American clandestine operations were launched in Vietnam to "prepare the ground".
Fletcher Prouty, who served as Chief of Special Operations for the Joint Chiefs of Staff under Kennedy and was a former Col. in the U.S. Air Force, goes over in his book "The CIA, Vietnam and the Plot to Assassinate John F. Kennedy," how the CIA was used to instigate psy-ops and paramilitary (terrorist) activities in Vietnam to create the pretext required for an open declaration of war and for the entry of the U.S. military into a twenty-year-long meat grinder.
This was a strategy reserved not just for Vietnam, but had become
the general U.S. foreign policy
in all regions that were considered threats to the Cold War Grand Strategy, as seen under the directorship of the Dulles brothers (See
Part 1
and
Part 2
of this series).