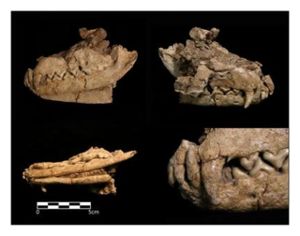 Anthropologists at the University of Toronto and the University of Cambridge have discovered the oldest cemetery in the Middle East at a site in northern Jordan. The cemetery includes graves containing human remains buried alongside those of a red fox, suggesting that the animal was possibly kept as a pet by humans long before dogs ever were. The 16,500-year-old site at 'Uyun al-Hammam was discovered in 2000 by an expedition led by University of Toronto professor Edward (Ted) Banning and Lisa Maher, an assistant professor of anthropology at U of T and research associate at the University of Cambridge. "Recent archaeological excavations have uncovered the remains of at least 11 individuals - more than known from all other sites of this kind combined," says Banning, of U of T's Department of Anthropology.
Previous research had identified the earliest cemeteries in the region in a somewhat later period (the Natufian, ca. 15,000-12,000 years ago). These were notable for instances of burials of humans with dogs. One such case involved a woman buried with her hand on a puppy, while another included three humans buried with two dogs along with tortoise shells. However, this new research shows that some of these practices occurred earlier.
Most of the individuals buried at the Jordan site were found with what are known as "grave goods," such as stone tools, a bone spoon, animal parts, and red ochre (an iron mineral). One grave contained the skull and right upper arm bone of a red fox, with red ochre adhered to the skull, along with bones of deer, gazelle and wild cattle. Another nearby grave contained the nearly complete skeleton of a red fox, missing its skull and right upper arm bone, suggesting that portions of a single fox had been moved from one grave to another in prehistoric times.