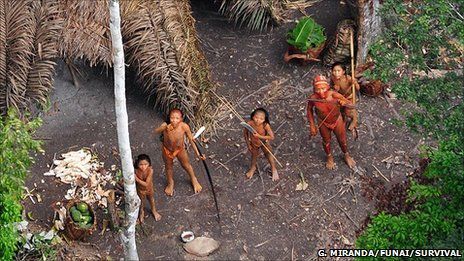 New pictures have been released of an isolated tribe living in rainforest on the Brazil-Peru border.
Brazil monitors many such tribes from the air, and they are known as "uncontacted" because they have only limited dealings with the outside world.
Photographs of the same tribe were released to the world two years ago.
Campaigners say the Panoan Indians are threatened by a rise in illegal logging on the Peruvian side of the border.
But Brazilian authorities believe the influx of loggers is pushing isolated Indians from Peru into Brazil, where the two groups could come into conflict.
Survival International, the campaign group that released the pictures, says the group is likely to be in good health, with baskets full of manioc and papaya vegetables grown in their communal "gardens".
The tribe in question could be descended from indigenous people who fled the "rubber boom" around a century ago, when wild rubber became an international commodity and forest areas were opened up.