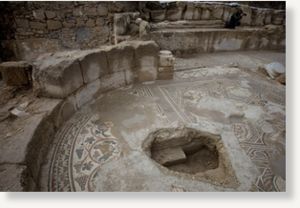 Israeli archaeologists presented a newly uncovered 1,500-year-old church in the Judean hills on Wednesday, including an unusually well-preserved mosaic floor with images of lions, foxes, fish and peacocks.
The Byzantine church located southwest of Jerusalem, excavated over the last two months, will be visible only for another week before archaeologists cover it again with soil for its own protection.
The small basilica with an exquisitely decorated floor was active between the fifth and seventh centuries A.D., said the dig's leader, Amir Ganor of the Israel Antiquities Authority. He said the floor was "one of the most beautiful mosaics to be uncovered in Israel in recent years."
"It is unique in its craftsmanship and level of preservation," he said.
Archaeologists began digging at the site, known as Hirbet Madras, in December. The Antiquities Authority discovered several months earlier that antiquities thieves had begun plundering the ruins, which sit on an uninhabited hill not far from an Israeli farming community.