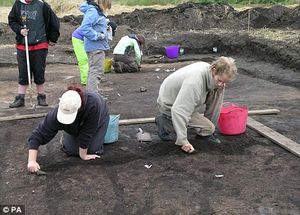 A controversial law that requires all human remains unearthed at ancient settlements to be reburied within two years threatens the future of archaeology, it is claimed today.
Under legislation introduced in 2008, bones and skulls found at sites in England and Wales, such as Stonehenge, have to be put back where they were found after 24 months.
A group of leading archaeologists has written to Justice Secretary Ken Clarke to protest that this will vastly diminish their ability to research the history of humans in Britain.
Forty archaeology professors wrote to express their 'deep and widespread concern' in a letter published in today's
Guardian
newspaper.
'The current licence conditions are impeding scientific research, preventing new discoveries from entering museums, and are not in the public interest,' their letter states.