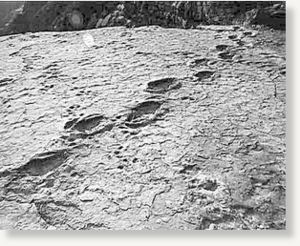 Local residents of Shenmu County in China's Shaanxi Province consider a mountain cliff named "Dragon Head" to be a mysterious forbidden place due to some huge footprints of unknown origin. They believe those footprints are the traces of their ancestors or even some gods from Heaven.
Along with the addition of various fictional details, the story of those footprints began spreading to others, and finally caught the attention of reporters, archaeologists and other experts. After careful investigation, they eventually were able to unlock the true story.
Huge footprints on the cliff
Local legends surrounding the footprints started back in 1967, when a man surnamed Qiao went to quarry some stones around his village. When he raised a piece of stone on a cliff, he found a pit in the shape of footprint. Then, he called his neighbors to clean all the stones on the cliff, and they found a line of footprints heading to the edge of the cliff. The scene totally shocked Qiao and his neighbors, and the stories of those special footprints started spreading after that.