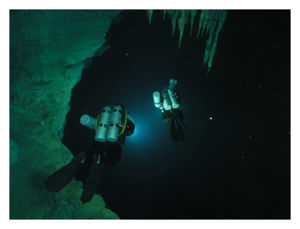 Explorers have discovered what might be the oldest evidence of humans in the Americas.
Alex Alvarez, Franco Attolini, and Alberto (Beto) Nava are members of PET (Projecto Espeleológico de Tulum), an organization that specializes in the exploration and survey of underwater caves on the Yucatan Peninsula in Mexico.
Alex, Franco and Beto have surveyed tens of thousands of feet of mazelike cave passages in the state of Quintana Roo. The team's relatively recent explorations of a large pit named Hoyo Negro (Black Hole, in Spanish), deep within a flooded cave, resulted in their breathtaking and once-in-a-lifetime discovery of the remains of an Ice Age mastodon and a human skull at the very bottom of the black abyss.
Beto recalls the amazing day of the discovery of Hoyo Negro.
"We started the exploration while following the main tunnel and progressed relatively fast by using scooters to cover more terrain.
"After about 1,500 feet [450 meters] we began to see the light of another entrance, so we headed towards it and surfaced.
"After taking a moment to chat and laugh about what a great dive we were having, we dropped down to continue the work."