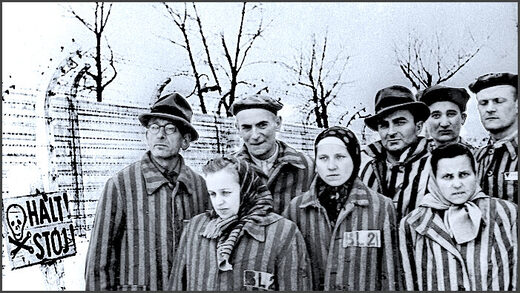 The SS guards abandoned the guard posts surrounding Auschwitz during the night of 20-21 January 1945.
At its height, in the summer of 1944,
the Auschwitz complex
, which comprised three basic camps — the main camp, Birkenau and Monowitz — and another 40 sub-camps, housed over 105,000 registered prisoners, mostly Jews, and around 30,000 unregistered Jewish inmates of so-called transit camps.
By January 20, 1945,
there were approximately 9,000 prisoners remaining.
In the days that followed the evacuation, SS guards would patrol the camps, shooting 400 prisoners to death, and burning another 300 alive in their barracks. On January 25, the SS gathered approximately 150 prisoners from Birkenau and marched them out of the camp. The next day the SS blew up some warehouses and abandoned the facility altogether.
Most of the surviving prisoners were starving, sick, and on the verge of death. The camp medical staff, assisted by the healthier prisoners, did their best to care for the bedridden patients. The camp was besieged by a howling winter storm, with temperatures well below zero and snow drifting around the camp. The survivors were afraid to move around too much — regular German troops, falling back in the face of
an advancing Soviet Army
, made their way through the camp, pillaging as they went, and everyone feared the return of the SS.