A STUDY AT THE MIDDLE PALAEOLITHIC SITE OF NEUMARK - NORD, LOCATED NEAR LEIPZIG, GERMANY, HAS
PROVIDED THE FIRST INDISPUTABLE PROOF OF ELEPHANT HUNTING BY EARLY HUMANS.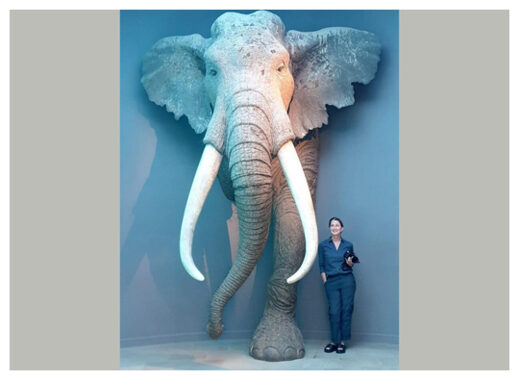 Neumark - Nord was first discovered in the 1980's, revealing the remains of at least 70 straight-tusked elephants over a decade of excavations in a gigantic lignite pit, which had been well preserved over the last 125,000 years in the fine-grained lake sediments present there.
The European straight-tusked elephant was the largest land-living animal at the time - with shoulder heights of up to 4 metres and body masses of up to 13 tonnes. The animal by the scientific name of Palaeoloxodon antiquus, was characterised by its unusually long and essentially straight tusks.
Palaeoloxodon antiquus roamed the landscapes of Europe and Western Asia in a period 800,000 to 100,000 years ago. It was the largest land mammal of the Pleistocene epoch, a period that began three million years ago. Straight-tusked elephants were not only significantly larger than today's African and Asian elephants, but were even bigger than the also extinct woolly mammoth.
It has been unclear to date, whether prehistoric hominins actively sought out and killed such elephants or simply scavenged from the carcasses of animals that had died a natural death
A zooarchaeological study by researchers from the Johannes Gutenberg University Mainz (JGU), the Leibniz-Zentrum für Archäologie (LEIZA), also based in Mainz, and Leiden University in the Netherlands, analysed an assemblage of European straight-tusked elephant remains from Neumark - Nord.
This revealed that Neanderthals deliberately hunted down and slaughtered European straight-tusked elephants in much larger social groups than had been previously assumed, whose meat and fatty tissue represented an important source of nutrition.