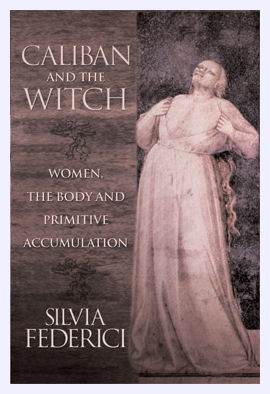 This Halloween season, there is no book I could recommend more highly than Silvia Federici's brilliant
Caliban and the Witch: Women, the Body, and Primitive Accumulation
(Autonomedia 2004), which tells the dark saga of the Witch Hunt that consumed Europe for more than 200 years. In uncovering this forgotten history, Federici exposes the origins of capitalism in the heightened oppression of workers (represented by Shakespeare's character Caliban), and most strikingly, in the brutal subjugation of women. She also brings to light the enormous and colorful European peasant movements that fought against the injustices of their time, connecting their defeat to the imposition of a new patriarchal order that divided male from female workers. Today, as more and more people question the usefulness of a capitalist system that has thrown the world into crisis,
Caliban and the Witch
stands out as essential reading for unmasking the shocking violence and inequality that capitalism has relied upon from its very creation.
Who Were the Witches?
Parents putting a pointed hat on their young son or daughter before Trick-or-Treating might never pause to wonder this question, seeing witches as just another cartoonish Halloween icon like Frankenstein's monster or Dracula. But deep within our ritual lies a hidden history that can tell us important truths about our world, as the legacy of past events continues to affect us 500 years later. In this book, Silvia Federici takes us back in time to show how the mysterious figure of the witch is key to understanding the creation of capitalism, the profit-motivated economic system that now reigns over the entire planet.