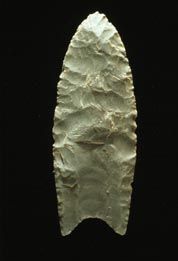 New research may change long-held views on early North American inhabitants
Summit County -- New archaeological research in Texas suggests that humans lived in North America thousands of years earlier than previously believed.
For about 100 years, archaeologists have dated the earliest human artifacts to the Clovis people, about 13,000 years ago. The new finds push this date back by about 2,500 years, into the pre-Clovis era, according to a press release from Baylor University.
"This find really rewrites history, so to speak, and changes our collective thought on the early colonization of North, Central and South America," said Dr. Lee Nordt, professor of geology at Baylor and dean of the College of Arts and Sciences, who is an author on the study. "What sets this study a part is that we were able to show using geological methods that the buried artifacts dating to pre-Clovis times were in their original state. This demonstrates unequivocally that the peopling of the Americas occurred much earlier than previously thought."