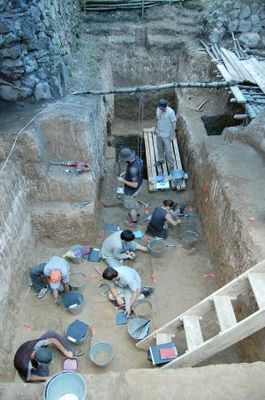 Washington - The worldwide spread of ancient humans has long been depicted as flowing out of Africa, but tantalizing new evidence suggests it may have been a two-way street.
A long-studied archaeological site in a mountainous region between Europe and Asia was occupied by early humans as long as 1.85 million years ago, much earlier than the previous estimate of 1.7 million years ago, researchers report in Tuesday's edition of
Proceedings of the National Academy of Sciences
.
Early human
Homo erectus
is known to have occupied the site at Dmanisi later. Discovering stone tools and materials from a much earlier date raises the possibility that
Homo erectus
evolved in Eurasia and might have migrated back to Africa, the researchers said - though much study is needed to confirm that idea.
"The accumulating evidence from Eurasia is demonstrating increasingly old and primitive populations," said Reid Ferring of the University of North Texas. Dmanisi is located in the Republic of Georgia.