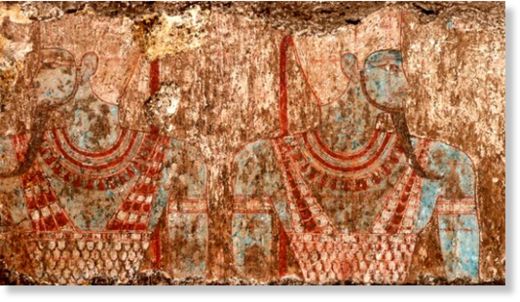 Indiana Jones came so close!
Painted, carved and inscribed thousands of years ago, hundreds of stone blocks that most likely formed a sacred temple were discovered in the ancient Egyptian capital once raided on the fictional explorer's quest for the ark, the country's archaeology society announced Monday.
The site, known as San El-Hagar or Tanis, is one of the most archaeologically rich areas of Egypt's Nile delta. It was famously portrayed as the resting place of the Ark of the Covenant, discovered by Indiana Jones in the film
Raiders of the the Lost Ark
.
An Ark has yet to be found, of course, but Dr. Zahi Hawass, Minister of State for Antiquities, was excited to announce the discovery of hundreds of ancient limestone blocks, which may have belonged to King Osorkon II.
French archaeologists found the colored and inscribed stones, which they believe were used to build the sacred lake walls of a temple dedicated to the goddess Mut. Dr. Philippe Brissaud, director of the French mission, confirmed that the sacred lake measures about 100 feet by 40 feet with a depth of 20 feet.