A Pictish symbol stone built into the wall of a Highland farm building has been recorded by archaeologists. The markings show a beast, crescent, comb and mirror.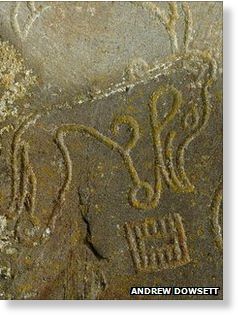 Archaeologist Cait McCullagh said it was a mystery how it had taken until this year for the stone to be officially recorded. She said it also suggested that more Pictish stones have still to be documented on the Black Isle where the beast was recorded.
Ms McCullagh, the co-founder and director of Archaeology for Communities in the Highlands (Arch), said the symbol stones probably dated from the 5th to 7th centuries AD. She said it was unusual to find such carvings on the north side of the Moray Firth.