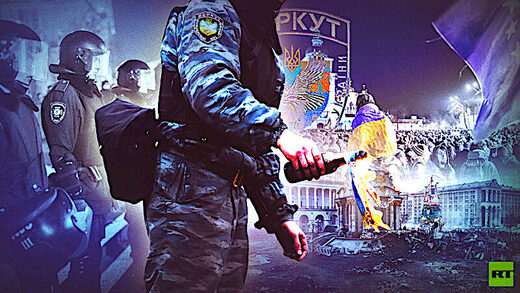 Out of all the possible options, officials in Kiev seem to always opt for the worst...
Last week, the West celebrated the tenth anniversary of what was known as "Euromaidan."
On November 21, 2013, then-President Viktor Yanukovich announced that
Ukraine was suspending preparations for signing an EU Association Agreement,
and journalist and activist Mustafa Nayyem called on people to go to the Maidan Square in Kiev
to protest the decision.
He promised them tea and a good time.
At the start, few took the events seriously - Ukrainians were used to seeing tents on Kiev's main square since the 2004 Orange Revolution, as the political circus often moved beyond the walls of the Verkhovna Rada (the national parliament) and ended in fights.
The opposition had gathered crowds of protesters when Yanukovich extended the Black Sea Fleet Agreement with Moscow, after the cancelation of former President Viktor Yushchenko's constitutional reform, following the arrest of ex-Prime Minister Yulia Timoshenko, and a dozen other less important events. This time, it seemed like things would be the same - the protesters would make some noise, then it would get cold out on the street and they would go home. Moreover, compared to the mass protests of former years, there were not that many people around.