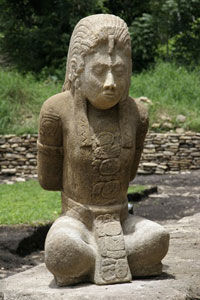 Mexican archaeologists have found two 1,300-year-old limestone sculptures of captured Mayan warriors that they say could shed light on the alliances and wars among Mayan cities during the civilization's twilight.
The life-size, elaborate sculptures of two warriors sitting cross-legged with hands tied behind their backs were found in May in the archaeological site of Tonina in southern Chiapas state along with two stone ballgame scoreboards.
The 5-foot (1.5-meter) tall sculptures have hieroglyphic inscriptions on their loincloths and chest that say the warriors belonged to the city of Copan, archaeologist Juan Yadeun said in a news release Wednesday.
Yadeun said the discovery proves warriors from Copan helped those in Palenque during the city's' 26-year war against Tonina for control of the Usumacinta river.
"The finding of the two captives of Copan is physical evidence that corroborates (the city's) alliance with Palenque in its fight against Tonina," said Yauden, who oversees the Tonina site for Mexico's National Institute of Anthropology and History.