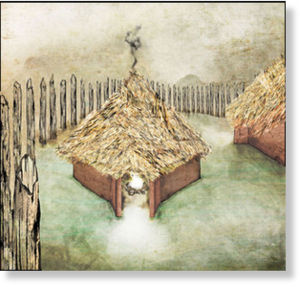 The Charlotte Observer
reported
on an American Indian village unearthed in Morganton, North Carolina, in Catawba Meadows Park. Archaeologists have been pulling artifacts from the ground in Burke County for some time now. The
Observer
spoke to Emma Richardson, who has been part of the team researching the village.
Richardson told the
Observer
that village hugged the banks of the Catawba River in present-day Morganton, and was likely circled by a wooden palisade, with village structures rising in a meadow where gardens flourished thank sto the rich river-bottom soil.
"Richardson also imagines a day in the 16th-century when villagers may have looked up from their toil and seen Spanish explorers arrive,"
Observer
reporter Joe DePriest writes. "The story of this clash of cultures will be told in a major living history project going up on the actual site of the village, now occupied by Morganton's
Catawba Meadows Park
."