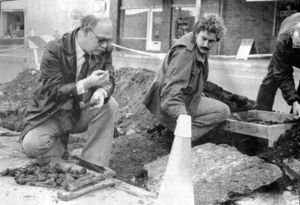 If it's proved that Oak Harbor officials knew Native American remains were located on SE Pioneer Way but proceeded with the project anyway, the city could be held liable in court.
Under state law RCW 27.44.040, anyone who knowingly removes a cairn or grave of any Native American is guilty of a class "C" felony. And under another section of the same code, RCW 27.44.050, a plaintiff may recover punitive damages upon proof that the violation was willful.
Brian Cladoosby, chairman of the Swinomish Tribal Senate, confirmed this week that the tribe has not opened litigation against the city, despite clear evidence that Oak Harbor officials were aware of a possible burial site adjacent to SE Pioneer Way.
"It's pretty obvious the city ignored (the state's) recommendation to have an archaeologist on site," he said.