A new survey of Lake Tana in Ethiopia - the source of the Blue Nile - suggests that drought may have contributed to the demise of the Egyptian Old Kingdom, around 4200 years ago.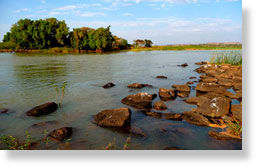 A team led by the University of Aberystwyth used seismic surveys and sediment cores to work out how the lake's water levels has varied over the past 17,000 years and linked this to evidence for global climate change.
Understanding how and why rainfall patterns change is particularly important for sub-Saharan Africa, where prolonged droughts have such serious social and economic consequences.
The climate here is dominated by the African-Asian monsoon and the movements of the Intertropical Convergence Zone (ITCZ). This is an area of erratic weather patterns, where winds from the northern and southern hemispheres meet close to the equator: sailors know it as the Doldrums.