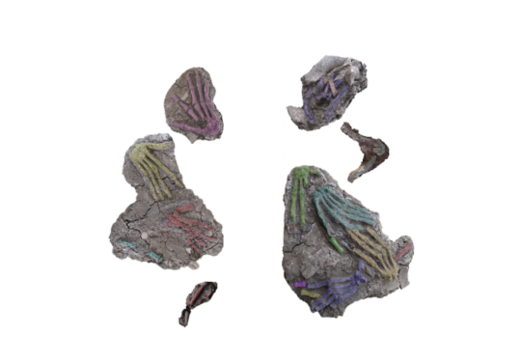 IN A NEW STUDY PUBLISHED IN THE JOURNAL SPRINGER
,
THE SEVERED RIGHT HANDS FROM 12 INDIVIDUALS HAVE BEEN ANALYSED OSTEOLOGICALLY,
REVEALING TROPHY-TAKING PRACTICES IN ANCIENT EGYPT.
The severed right hands were discovered by archaeologists in three pits in the courtyard of the Hyksos palace at Avaris/Tell el-Dab'a in north-eastern Egypt.
The palace dates from the 15th Dynasty (1640-1530 BC), during which time the Lower and Middle Egypt up to Cusae was ruled by the Hyksos kings, marking the first period in which Egypt had foreign rulers.
Although the practice of placing severed hands is documented in tomb inscriptions and temple reliefs from the New Kingdom onwards, this is the first example of an osteological analysis using physical evidence.
Anatomical markers indicate that the hands are from at least 12 adults, belonging to 11 males and possibly one female. Once the attached parts of the forearm were removed, the hands were deposited in the pits with the fingers wide-splayed, primarily on their palm-facing sides.
The positioning of the hands on their palmar surfaces with splayed fingers may have been caused by taphonomic reasons, or they may have been due to their deliberate placement.