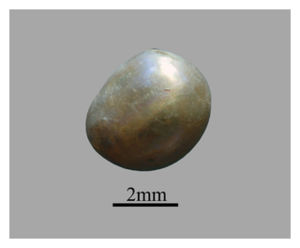 French researchers have unearthed the oldest natural pearl ever found at a Neolithic site in Arabia, suggesting that pearl oyster fishing first occurred in this region of the world.
Discovered in the Emirate of Umm al Quwain, United Arab Emirates (UAE), the pearl was believed to have originated between 5547 and 5235 BC.
"Gemmologists and jewellers have popularised the idea that the oldest pearl in the world is the 5000-year-old Jomon pearl from Japan. Discoveries made on the shores of south-eastern Arabia show this to be untrue," Vincent Charpentier, Sophie Méry and colleagues at the French Foreign Ministry's archeological mission in the UAE, wrote in the journal
Arabian Archaeology and Epigraphy
.
Some 7,500 years old and 0.07 inches in diameter, the newly discovered pearl is just the last of a series of findings at archeological sites in the Arabian Peninsula.
Over the years, researchers unearthed a total of 101 Neolithic pearls, coming from the large pearl oyster
Pinctada margaritifera
and from
Pinctada radiata
, a much smaller, easier to collect species, which provides higher quality pearls.
"The discovery of archaeological pearls demonstrates an ancient fishing tradition that no longer exists today," wrote the researchers.