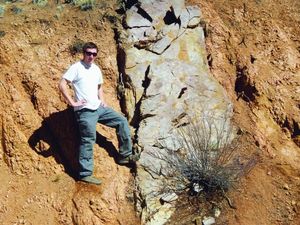 In the Front Range of the Colorado Rockies, smack in the middle of a cliff that overlooks U.S. Highway 24, resides a very unusual geological formation. This reddish gray, sharp-edged, and erosion-resistant swath of sandstone stands in stark contrast to the crumbling, heavily weathered granites that lie on either side. Now, scientists say they have narrowed down when this anomaly and others like it in this region formed - a discovery that may give researchers new clues about the breakup of an ancient supercontinent hundreds of millions of years ago.
Many outcrops of the "Tava sandstone" - derived from a Native American name for Pikes Peak, a local landmark - are found along the Ute Pass fault, which runs along the Front Range near Colorado Springs. First noted by geologists more than 130 years ago, these deposits have long been recognized as strange, says Christine Siddoway, a geologist at Colorado College, Colorado Springs. Many sandstone formations show layers of some type, signs they were laid down over time in distinct episodes by wind or flowing water. But the individual grains in the Tava sandstone, which typically are bits of quartz measuring from 125 to 250 micrometers across, are well mixed, and they're peppered with larger bits of quartz up to 3 millimeters in diameter. Once free-flowing but now firmly cemented together with an iron-bearing mineral called hematite, the sand grains were apparently injected into cracks in ancient granite - some of them as much as 6 meters wide - under high pressure. The now-solid Tava deposits apparently flowed from vast reservoirs of once-waterlogged sand, some of them containing more than 1 million cubic meters of material.
"This is a very unusual [sandstone]," says Arlo Weil, a structural geologist at Bryn Mawr College in Pennsylvania, who wasn't involved in the new study. "It must have been formed by a very rapid, chaotic process."