Comment: At the end of this article is a must-watch documentary - Assassination of The Kennedy Brothers - made by the author.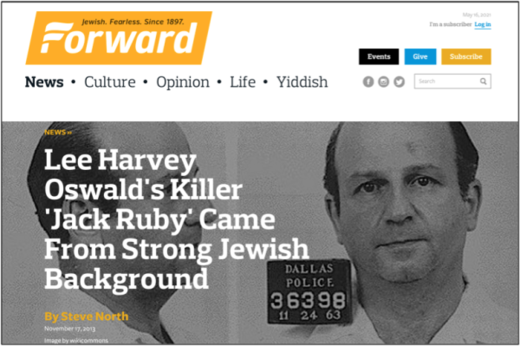 By a strange paradox, most Kennedy researchers who believe that Oswald was "just a patsy" spend an awful lot of time exploring his biography. This is about as useful as investigating Osama bin Laden for solving 9/11. Any serious quest for the real assassins of JFK should start by investigating the man who shot Oswald at pointblank in the stomach at 11:21 a.m. on November 24, 1963 in the Dallas Police station, thereby sealing the possibility that a judicial inquiry would draw attention to the inconsistencies of the charge against him, and perhaps expose the real perpetrators.
One would normally expect the Dallas strip-club owner Jack Ruby to be the most investigated character by Kennedy truthers
. But that is not the case.
Of course, it is perfectly normal that Chief Justice Earl Warren, when Ruby told him on June 7, 1964, "
I have been used for a purpose
," failed to ask him who had used him and for what purpose.
1
But what about independent investigators? Are only readers of the
Forward
("News That Matters To American Jews") worthy of being informed that
"Lee Harvey Oswald's Killer 'Jack Ruby' Came From Strong Jewish Background,"
and that
he told his rabbi Hillel Silverman that he "did it for the Jewish people"?
Here is the relevant passage of Steve North's 2013 article, relating Silverman's reaction after hearing on the radio that a "Jack Rubenstein" had killed the assassin: