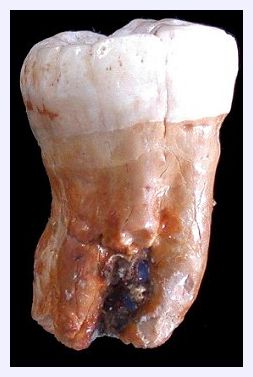 For years it was believed the Neanderthals were carnivores who devoured meat.
But new research has found not only did our primitive ancestors eat a lot of greens, they were able to cook them as well.
It was widely believed that the limited meat-only diet of Neanderthals and their lack of cooking skills contributed to their extinction.
Their rivals
Homo Sapiens,
our direct ancestors, who lived alongside them were more adaptable as they had a wider variety of food sources to choose from.
But a microcscopic analysis of the fossilised teeth of Neanderthals reveals their diet was more varied than previously thought - with their vegetable intake including beans, roots and tubers and palm dates.
The evidence, from cave sites in Iraq and Belgium, also suggests Neanderthals controlled fire in much the same way as
Homo Sapiens.
Many of the plant remains had undergone physical changes that make scientists believe they were cooked before they were eaten.
Researchers are still trying to identify remains of other plants on the teeth.