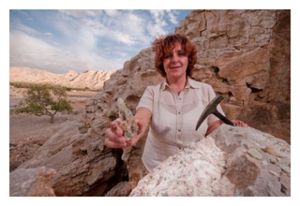 Six of the world's leading experts from Slovenia's Karst Institute and UAE University have discovered the remnants of an cave network that may have existed millions of years ago.
The cave is thought to predate the surrounding wadi and should provide clues about the UAE's former climate, geography and water.
The discovery happened by chance at the beginning of the week when they asked for help from a young man, known to them only as Talal, when they were lost in Wadi Haqil.
"Just by chance we asked him if he knew if there was a cave in the area," said Dr Asma al Ketbi, the head of the Emirates Geographic Society and a geography professor at UAE University, at the site yesterday. "At first he said 'no', and then he just brought us to this cave."
The dark chamber contained little more than a few startled pigeons, but in the mountainside above they found shining strips of crystal green embedded in the limestone.
The rock holds the remains of a hydrothermic cave network of thousands of channels covered in crystal walls five to 10 centimetres thick, with at least one chamber measuring more than seven metres in diameter.