Secret History
A chronicle of legendary Native American poet/activist John Trudell's travels, spoken word performances and politics.


---
Judy Dow and Beverly Slapin
Oyate
Mon, 12 Jun 2006 00:00 UTC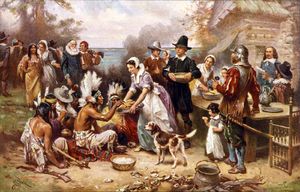 What is it about the story of "The First Thanksgiving" that makes it essential to be taught in virtually every grade from preschool through high school? What is it about the story that is so seductive? Why has it become an annual elementary school tradition to hold Thanksgiving pageants, with young children dressing up in paper-bag costumes and feather-duster headdresses and marching around the schoolyard? Why is it seen as necessary for fake "pilgrims" and fake "Indians" (portrayed by real children, many of whom are Indian) to sit down every year to a fake feast, acting out fake scenarios and reciting fake dialogue about friendship? And why do teachers all over the country continue (for the most part, unknowingly) to perpetuate this myth year after year after year?
Is it because as Americans we have a deep need to believe that the soil we live on and the country on which it is based was founded on integrity and cooperation? This belief would help contradict any feelings of guilt that could haunt us when we look at our role in more recent history in dealing with other indigenous peoples in other countries. If we dare to give up the "myth" we may have to take responsibility for our actions both concerning indigenous peoples of this land as well as those brought to this land in violation of everything that makes us human. The realization of these truths untold might crumble the foundation of what many believe is a true democracy. As good people, can we be strong enough to learn the truths of our collective past? Can we learn from our mistakes? This would be our hope.
We offer these myths and facts to assist students, parents and teachers in thinking critically about this holiday, and deconstructing what we have been taught about the history of this continent and the world. (Note: We have based our "fact" sections in large part on the research, both published and unpublished, that Abenaki scholar Margaret M. Bruchac developed in collaboration with the Wampanoag Indian Program at Plimoth Plantation. We thank Marge for her generosity. We thank Doris Seale and Lakota Harden for their support.)
---
Is All That Turkey and Stuffing a Celebration of Genocide?

Thanksgiving is a holiday where families gather to share stories, football games are watched on television and a big feast is served. It is also the time of the month when people talk about Native Americans. But does one ever wonder why we celebrate this national holiday? Why does everyone give thanks?
History is never simple. The standard history of Thanksgiving tells us that the "Pilgrims and Indians" feasted for three days, right? Most Americans believe that there was some magnificent bountiful harvest. In the Thanksgiving story, are the "Indians" even acknowledged by a tribe? No, because everyone assumes "Indians" are the same. So, who were these Indians in 1621?
In 1620, Pilgrims arrived on the Mayflower naming the land Plymouth Rock. One fact that is always hidden is that the village was already named Patuxet and the Wampanoag Indians lived there for thousands of years. To many Americans, Plymouth Rock is a symbol. Sad but true many people assume, "It is the rock on which our nation began." In 1621, Pilgrims did have a feast but it was not repeated years thereafter. So, it wasn't the beginning of a Thanksgiving tradition nor did Pilgrims call it a Thanksgiving feast. Pilgrims perceived Indians in relation to the Devil and the only reason why they were invited to that feast was for the purpose of negotiating a treaty that would secure the lands for the Pilgrims. The reason why we have so many myths about Thanksgiving is that it is an invented tradition.
It is based more on fiction than fact.
---
"...It is iron and wheat which have Civilized men and ruined the human Race."


- Jean-Jacques Rousseau, Discourses on the Origin of Inequality (Rousseau 24)


"It would be better to dump the whole stinking system and take the consequences."


- The Unabomber (Kaczynski #179, Unabomber 140)

Just as human activity has taken the world to the brink of ecological destruction, Al Gore has emerged as the ecosystem's ostensible messiah, mobilizing millions to change their habits of consumption. Gore's "An Inconvenient Truth" has made it fashionable to "go green," to "save the planet." His analysis, however, seems somewhat mitigated compared to the more urgent descriptions of others who contend that this generation "is on the verge of the most profound catastrophe the human species has ever faced. Death threats to the living earth are coming from all sides. Water, sunlight, air and soil are threatened" (Koetke 155). With "every organism on the planet" threatened (Koetke 155), the intentions of Al Gore and his millions of "go green" proselytes - who want only to scale back consumption - are called into question; is their conservation message truly designed to save the planet, or merely postpone the inevitable through a drink-slower-party-longer approach to global warming, then they in no way save the environment; they save civilization. In other words, scaled-back consumption will still destroy the environment - it will simply take longer before the destruction causes civilization to sputter out.
So, the question arises: What if it is civilization itself - the very thing Gore and friends are saving - that is the cause of ecological catastrophe? "For the first time in more than three billion years of life, a living system is relentlessly creating the means not of self-preservation, but self-destruction" (Schmookler 175); that "living system is civilization.
In the proper historical context, civilization is revealed to be a fascist system of control, a ten thousand-year genocide against sustainable ways of life that pushes humanity toward extinction.
---
The
recent election
windfall victory of Hamas has sent shock waves through the United States and the European Union. They swiftly announced their threat to withhold $400 million in aide if Hamas refused to recognize the state of Israel and disarm.
Hamas, which has promoted itself as a militant alternative to the discredited Fatah government, now has to live up to its own rhetoric of providing an alternative to the long suffering Palestinian people.
Mr Zahar, the leader of Hamas who rose to power in 1989, reportedly said, "Spies and thieves must fear us," and "thieves are those who steal our land". As a member of the American Indian Movement, I know full well that the roads into the Americas were paved by thieves. It was A government spy sent to create internal disruption, who set the stage for the execution of Anna Mae Aquash, an icon in Indian country; and while over 150 government police terrorized communities on the Pine Ridge Oglala Lakota reservation in the summer of 1975, the federal government stole one eighth of the Pine Ridge reservation land.
The state of Israel sets on land that was originally Palestinian but Zionist movements in Europe and the United States claimed that the "land was given to them by God" and their belief that their race possessed some "natural superiority".
Euro- Americas pray to "god and country" and teach their future generations to pray homage to the gangsters, outlaws and thieves who stole the country from Indian nations in god,s name.
The European idea that they possessed a "God given superiority" not only had brought them into conflict with the Palestinian people, but also North American Indian Nations in the 1800s.
---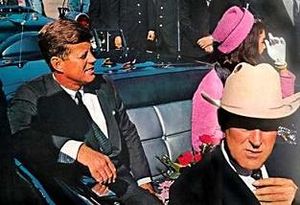 Review of James Douglass' Book
Despite a treasure-trove of new information having emerged over the last forty-six years, there are many people who still think who killed President John Fitzgerald Kennedy and why are unanswerable questions. There are others who cling to the Lee Harvey Oswald "lone-nut" explanation proffered by the Warren Commission. Both groups agree, however, that whatever the truth, it has no contemporary relevance but is old-hat, history, stuff for conspiracy-obsessed people with nothing better to do. The general thinking is that the assassination occurred almost a half-century ago, so let's move on.
Nothing could be further from the truth, as James Douglass shows in his extraordinary book,
JFK and the Unspeakable: Why He Died and Why It Matters
(Orbis Books, 2008). It is clearly one of the best books ever written on the Kennedy assassination and deserves a vast readership. It is bound to roil the waters of complacency that have submerged the truth of this key event in modern American history.
It's not often that the intersection of history and contemporary events pose such a startling and chilling lesson as does the contemplation of the murder of JFK on November 22, 1963 juxtaposed with the situations faced by President Obama today. So far, at least, Obama's behavior has mirrored Johnson's, not Kennedy's, as he has escalated the war in Afghanistan by 34,000. One can't but help think that the thought of JFK's fate might not be far from his mind as he contemplates his next move in Afghanistan.
---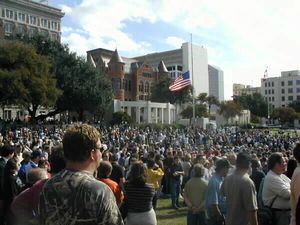 The memory of what happened in downtown Dallas 47 years ago today is still fresh for John Todd.
Now he wants to pass those memories on.
"When I asked my grandkids [to come], they immediately said yes," Todd said this morning near the spot where President John F. Kennedy was slain by a sniper's bullet. "So here we are."
The Todds had plenty of company: Dozens of people - tourists and locals, young and old - visited the site where the president's motorcade passed the Texas School Book Depository.
---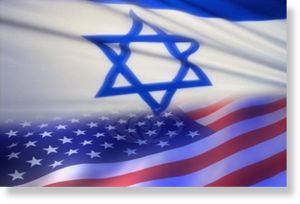 Prior to the fascist, destructive, genocidal US-UK-Israeli occupation of Iraq, Sunni and Shia, Muslims and Christians, Arabs and Kurds lived together in a harmonious atmosphere of brotherhood and unity that paralleled that of occupied Palestine before the Zionist occupation in 1948. It is egregious, disgusting, despicable, ignorant, absurd and erroneous on every factual basis to assert that the aforementioned ethnic and religious groups are now massacring each other, when in reality, they are being massacred by the murderous occupation armies.
Dividing Iraq via partition and driving it into a hell of ethnic cleansing was a Zionist plot that was originally designed in 1982 by Israeli foreign policy advisor Oded Yinon (1). The policies for destabilizing Iraq were reestablished in the 'Clean Break' papers written for mass murderer Benjamin Netanyahu by Zionist spy Richard Perle and several Zionist war criminals including Douglas Feith, David Wurmser, Meyrav Wurmser and Robert Loewenberg (2). Agents of the international terrorist group known as Mossad have been operating in Iraq as early as the 1950s, when the Zionist entity engaged in a false flag campaign of terror against the Iraqi-Jewish community (3). It has always been the absolute goal of the illegitimate usurping entity to destroy Iraq as a nation, so it can bring its 'Greater Israel' dream to fruition, settling its colonial extremists on the banks of the ancient Tigris and Euphrates rivers.
The bloody travesty of humanity that occurred on October 31st, 2010 which left 58 Iraqis dead in the Sayedat al-Najat Cathedral in Baghdad (4) was not the work of Al-Qaeda. The gunmen didn't belong to Islamic State of Iraq. The homicidal shooters weren't even Iraqi. The best way to honor the victims of senseless violence is to expose the truth of the attack. And the truth is, this massacre has Zionist fingerprints all over its blood-drenched structure.
---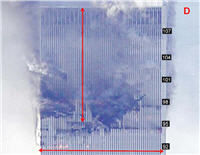 Many people who think they have been keeping up with the revelations of the last several years about the destruction of the three high-rises in New York City on Sept. 11, 2001, will nonetheless be surprised to discover that the falling upper section of WTC 1 exhibited no measurable deceleration when it impacted the lower section. This is a startling revelation because it adds to the collection of "smoking guns" proving that the "collapse" of that building was not caused by the jetliner impact and ensuing fires.
Although theoretically possible, collapses of heavily constructed buildings like the Twin Towers and WTC 7 had never occurred prior to Sept. 11, 2001, without some form of "assistance." The reason for this is that they are built with significant reserve strength. The construction of each floor is designed to support several times the actual load above it.
The only way a collapse of a structure with significant reserve strength can continue is for the static load to be amplified in what is called dynamic loading. Dynamic loading occurs when the impacting object decelerates faster than the acceleration of gravity. For instance, if during an impact the falling object decelerates at three times the rate of gravity, it will impart a load on the object it strikes that is three times its static load. Dynamic loading was postulated in a paper used in the NIST report on the WTC collapses, written by Dr. Zdenek Bazant of Northwestern University. However, Dr. Bazant had not performed any actual measurements to support his theory.
Actual measurements of the descent of WTC 1 were performed independently in 2008 by physics instructor David Chandler of Fresno, California, and Professor Graeme MacQueen of Hamilton, Ontario. Both found no evidence of deceleration at any time during the descent. In fact the upper section of WTC 1 continuously accelerated, at approximately 2/3 of g (free-fall) during the first several seconds of the building's "collapse."
The contradiction caused by the lack of deceleration of the upper section of WTC 1 with the dynamic loading event postulated, but never measured, by Dr. Bazant or NIST, is discussed in a published paper entitled
"The Missing Jolt,"
which can be found online at the
Journal of 9/11 Studies
and in the
Technical Articles
section of the AE911Truth website.
Proof that the necessary deceleration is observable in a collapse in which the momentum and kinetic energy of an upper section break the columns in the lower section is found in the demolition of several buildings in France. In recent years demolition engineers there have devised a system known as the Verinage technique, where they demolish buildings without the use of explosives. This technique uses hydraulic rams to break all of the columns in a couple of stories near the center of the building. The loss of vertical support in these stories then causes the upper section to fall unimpeded through a pre-determined distance before impacting the intact lower structure. Watch this video of one of these demolitions - of the
Balzac-Vitry building.
---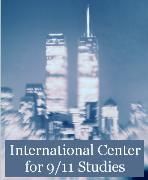 Over the last century, the most astounding historical discoveries of man-made artifacts have often been accomplished by well-funded, highly experienced researchers. From the excavation of King Tut's tomb to the sighting of the sunken Titanic, stunning finds have required immense financial and human resources, as well as the leadership by distinguished. So, how did a mountain of never-before-seen footage used in NIST's World Trade Center investigations get exposed to the light of day last month? Was it the work of a billionaire adventurer? Not quite. You can thank an upstart non-profit, the
International Center for 9/11 Studies
, whose efforts have at last borne fruit.
The International Center for 9/11 Studies was founded in 2008 by Director
James Gourley
, a Texas lawyer who began questioning the events of 9/11 after watching a presentation given by David Ray Griffin on C-SPAN."
I was just floored by what I was hearing," Gourley explained, "and I've been looking into 9/11 ever since then."
In order to encourage a better understanding of the 9/11 attacks and promote scientific study of these tragic events, Gourley assembled a small team of trusted colleagues, which includes physics instructor
David Chandler
, activist
Dr. Graeme MacQueen
, and Justin Keogh, the Center's Chief Technical Officer. The Center has partnered with other key researchers in the past, including physicist
Steven Jones
and chemist
Niels Harrit
.
Since its inception, the Center has contributed to groundbreaking work on the technical analysis of the WTC building destructions. Gourley, who has a chemical engineering background, co-authored several papers that exposed evidence that the Twin Towers and WTC Building 7 were destroyed by means of controlled demolition. His critique of official-story defender Zdenek Bazant's crush down/crush up collapse theory was published as part of a formal discussion in the mainstream
Journal of Engineering Mechanics
. Gourley's contributions also extended to the peer-reviewed paper detailing the active thermitic material discovered in the WTC dust, which was published in the
Bentham Open Chemical Physics Journal
. In addition, the Center collaborated with
Architects & Engineers for 9/11 Truth
,
Scholars for 9/11 Truth and Justice
, and other scientists and engineers to submit 26 pages of comments on the NIST WTC 7 Draft Report within the three-week deadline.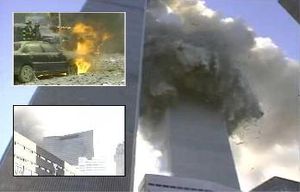 Uncovering the data NIST used in its WTC investigations proved to be a little more difficult. The Center filed a FOIA Request with NIST on January 26, 2009, seeking disclosure of "all of the photographs and videos collected, reviewed, cited or in any other way used by NIST during its investigation of the World Trade Center building collapses." NIST initially ignored this request, and for months dismissed attempts by the Center to gain acknowledgment of its receipt. Undeterred, Gourley filed a lawsuit on May 28, 2009 to get the data released. Since then, NIST has been periodically turning over images and video from its archives. So far, the Center has received over 300 DVDs and several external hard disk drives related to the NIST Reports - more than three terabytes of data - and NIST has indicated that additional records will be released in the future.
---