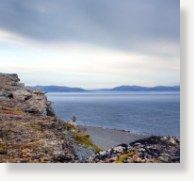 An earlier unknown monument of archeology has been discovered on Peninsula Sredniy, Murmansk Region.
Workers of the Arctic Technologies company carrying out geological exploration occasionally found strange circles of stones and then the object was examined by archeologists.
Archeologists were amazed at strange constructions of boulders - these are well distinguishable stone-laid circles six meters in diameter with a crosswise masonry inside.