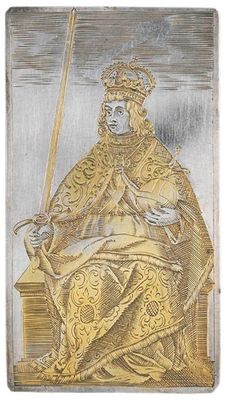 Call it a card player's dream. A complete set of 52 silver playing cards gilded in gold and dating back 400 years has been discovered.
Created in Germany around 1616, the cards were engraved by a man named Michael Frömmer, who created at least one other set of silver cards.
According to a story, backed up by a 19th-century brass plate, the cards were at one point owned by a Portuguese princess who fled the country, cards in hand, after Napoleon's armies invaded in 1807.
At the time they were created in 1616 no standardized cards existed; different parts of Europe had their own card styles. This particular set uses a suit seen in Italy, with swords, coins, batons and cups in values from ace to 10. Each of these suits has three face cards - king, knight (also known as cavalier) and knave. There are no jokers. [
See Photos of the Silver Playing Cards
]
In 2010, the
playing cards
were first put on auction by an anonymous family at Christie's auction house in New York. Purchased by entrepreneur Selim Zilkha, the cards were recently described by Timothy Schroder, a historian with expertise in gold and silver decorative arts, in his book
Renaissance and Baroque Silver, Mounted Porcelain and Ruby Glass from the Zilkha Collection
(Paul Holberton Publishing, 2012).
"Silver cards were exceptional," Schroder writes. "They were not made for playing with but as works of art for the collector's cabinet, or
Kunstkammer
." Today, few survive. "[O]nly five sets of silver cards are known today and of these only one - the Zilkha set - is complete."
On the cards, two of the kings are depicted wearing ancient Roman clothing while one is depicted as a
Holy Roman Emperor
and another is dressed up as a Sultan, with clothing seen in the Middle East. . The knights and knaves are depicted in different poses wearing (then-contemporary) Renaissance military or courtly costumes. Each card is about 3.4 inches by 2 inches (8.6 centimeters by 5 centimeters) in size and blank on the back.