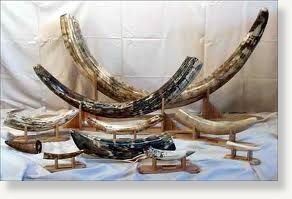 Russian authorities have confiscated three tonnes of mammoth tusks from a criminal gang which tried to smuggle them out of the country.
The court office of the northern city of St. Petersburg said on Thursday that it had confiscated some 64 full and 14 reconstructed tusks, but would not say when.
A small group of criminals has been involved in smuggling tusks and bones from the extinct beasts across Russia's borders since 2004, the court said in a press release.
The court said that the tusks come from a species of mammoth that once inhabited the Siberian Sakha Republic, also known as Yakutia. The tusks have survived thousands of years in the permafrost that covers vast part of the region.