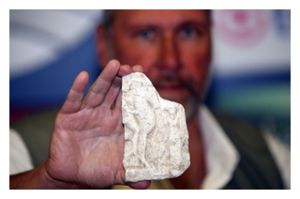 Top Bulgarian archaeologist Prof. Nikolay Ovcharov has presented new finds from the Ancient Thracian city and medieval fortress of Perperikon proving the existence of an Antiquity period sanctuary that he believes could be the ancient Temple of Dionysus.
"The marble reliefs of the Thracian Horseman that we have found during excavations there prove that there was a sanctuary at Perperikon," Ovcharov said at a news conference Tuesday,
The Thracian Horseman is the conventional term for a recurring motif from the iconography of Paleo-Balkanic mythology during the Roman era, believed to have been supreme deity of Ancient Thrace; he is usually depicted on funeral statues as a horseman slaying a beast with a spear.
Ovcharov has been excavating the Ancient Thracian rock city of Perperikon in the Rhodope Mountains for the past few years, and his finds have increasingly proven that Perperikon (also known as Hyperperakion) used to be a crucial urban center during the Middle Ages as well in the Byzantine Empire and the First and Second Bulgarian Empire, and not just in the Antiquity period.