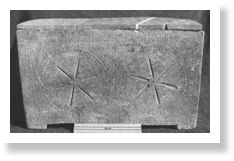 Background comes to light on the family of the high priest who pursued Jesus
The bone box itself was plundered from a Second Temple-era grave by looters. But when archaeologists finally got their hands on it some 2,000 years later, they guessed its inscription could possibly shed light on one of the major figures surrounding the death of Jesus.
They were right.
"It is remarkable and exciting," Boaz Zissu, a senior lecturer in the Department of Land of Israel and Archaeology Studies at Bar Ilan University near Tel Aviv, told The Media Line.
Zissu and his colleague Yuval Goren, of Tel Aviv University, discovered that the ossuary, or small stone chest that Jews used at the time to store bones, belonged to a woman belonging to the family of Caiaphas, the high priest who the Gospels say sent Jesus to the Romans to be crucified.
While Christians may find an archeological remnant of the Gospel story to be intriguing, Zissu and Goren are more focused on the rest of the inscription, which for the first time revealed that Caiaphas was a member of the priestly division called Ma'aziahu and was probably born in the hills south of Bethlehem.