Look at Behemoth, which I made along with you and which feeds on grass like an ox. What strength it has in its loins, what power in the muscles of its belly! Its tail sways like a cedar; the sinews of its thighs are close-knit. Its bones are tubes of bronze, its limbs like rods of iron. It ranks first among the works of God...Job 40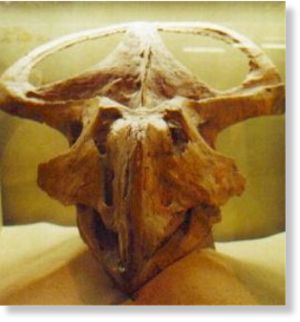 Evidence indicating the historical presence of ceratopsian dinosaurs in South America within the last 1,000 years would be controversial for at least two reasons; one, ceratopsian dinosaurs are thought by modern science to have been extinct for 65 million years and two, science at most only recognizes the presence of one type of ceratopsian dinosaur on that entire continent.
Ceratopsian dinosaurs were, vegetarian, quadruped, frilled and horned dinosaurs whose fossils have been found primarily in North America, Asia and Europe. Incidentally, they also had tails like a cedar; Certainly much thicker than that of the hippo which some believe is described in the book of Job.
Unusual identifying features for this dinosaur include the rostral bone which gives its face a beak like appearance and the jugal bones which scientists most often depict as bones protruding from the side of the animals face. Ceratopsia is derived from the Greek for "horned face".
Only one species has been identified from fossils in South America, Notoceratops and the scant fossils upon which that tentative identification was based have since been lost.