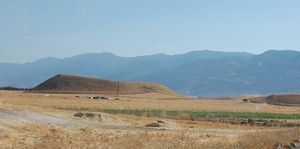 As ancient civilizations across the Middle East collapsed, possibly in response to a global drought about 4,200 years ago, archaeologists have discovered that one settlement in Syria not only survived, but expanded.
Their next question is - why did Tell Qarqur, a site in northwest Syria, grow at a time when cities across the Middle East were being abandoned?
"There was widespread abandonment of many of the
largest archaeological sites
and ancient cities in the region and also large numbers of smaller sites," said Jesse Casana, a professor of anthropology at the University of Arkansas. "At Tell Qarqur and probably at other sites also in the Orontes River Valley, where our site is located, [settlement] continues, and in our case, seems to have probably broadened [during that time]."
Casana and Boston University archaeologist Rudolph Dornemann discovered mud-brick homes beyond the city's fortification walls, suggesting the area was thriving.