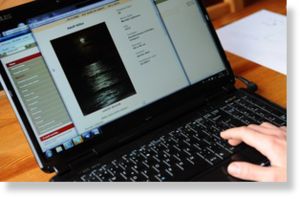 A 1913 painting by Nazi Germany's dictator Adolf Hitler sold for 32,000 euros ($42,300) in a Slovak internet auction on Sunday, the Darte auction house said.
The starting price for the painting titled
Maritime Nocturno
was set at 10,000 euros, while an expert put its value at 25,000 euros, said Darte, which sold the painting in a closed VIP auction.
The mixed-media painting depicts a full moon over a glittering seascape.
"The painting has been offered for sale by an unnamed family of a Slovak painter who probably met Hitler personally when he was struggling to become an artist in Vienna during the early 20th century," Darte owner Jaroslav Krajnak said earlier.