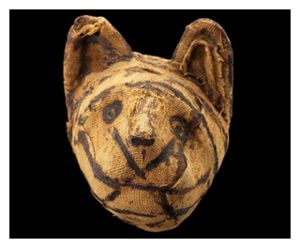 Millions of animals were‭ ‬ritually slaughtered in ancient Egypt to foster a huge mummification industry that even drove some species extinct.‭ ‬
As an
exhibition‭
‬at the Smithsonian Institution's National Museum of Natural History in Washington, D.C. shows,‭ ‬almost no animals escaped the carnage.
‭Although ‬pets died of natural causes before their mummification,‭ and sacred beasts were pampered by adoring priests, most‬ animals in ancient Egypt had miserable, short lives. ‭
Many ‬were simply bred to become votive mummies -- offered to the gods in the same way that people light up candles in churches today.
"Various gods had different animal totems or avatars.‭ ‬Priests who maintained temples for these different gods offered a service whereby people could have an associated animal mummified and placed in a catacomb in their name," exhibition curator Melinda Zeder, director of the archeobiology program at the Smithsonian Institution's National Museum of Natural History, told Discovery News.
Began as early as‭ ‬3,000 BC, the practice reached its zenith from about‭ ‬650‭ ‬BC to‭ ‬200‭ ‬AD. ‭
"‬Literally millions of animals like dogs and cats were raised by temple priests and mummified.‭ ‬This practice extended to wild animals like the sacred and glossy ibis and the baboon‭ ‬--‭ ‬and may have contributed to the extinction of these animals in Egypt," Zeder said.
The sacred ibis and baboons were mummified in the millions because they were sacred to Thoth,‭ ‬the god of wisdom and writing. Raptors were ‭ ‬associated with Horus, the falcon god, while cats were sacrificed to the protective goddess Bastet.