On January 25, 2011, tens of thousands of protestors flooded Cairo's Tahrir Square, demanding the end of President Hosni Mubarak's regime. As the "day of revolt" filled the streets of Cairo and other cities with tear gas and flying stones, a team of archaeologists led by Susanne Bickel of the University of Basel in Switzerland was about to make one of the most significant discoveries in the Valley of the Kings in almost a century.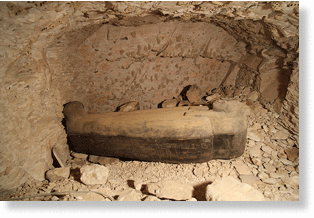 The valley lies on the west bank of the Nile, opposite what was once Egypt's spiritual center - the city of Thebes, now known as Luxor. The valley was the final resting place of the pharaohs and aristocracy beginning in the New Kingdom period (1539 - 1069 B.C.), when Egyptian wealth and power were at a high point. Dozens of tombs were cut into the valley's walls, but most of them were eventually looted. It was in this place that the Basel team came across what they initially believed to be an unremarkable find.
At the southeastern end of the valley they discovered three sides of a man-made stone rim surrounding an area of about three-and-a-half by five feet. The archaeologists suspected that it was just the top of an abandoned shaft. But, because of the uncertainty created by Egypt's political revolution, they covered the stone rim with an iron door while they informed the authorities and applied for an official permit to excavate.