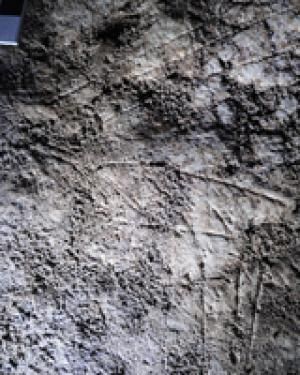 A reindeer engraved on the wall of a cave in South Wales has been found to date from at least 14,505 years ago -- making it the oldest known rock art in the British Isles.
The engraving was discovered in September 2010 by Dr George Nash from the University of Bristol's Department of Archaeology and Anthropology while he was exploring the rear section of Cathole Cave, a limestone cave on the eastern side of an inland valley on the Gower Peninsula, South Wales.
Found to the rear of the cave on a small vertical limestone niche, the engraved cervid -- probably a stylised reindeer -- is shown side-on and measures approximately 15 x 11cm. It was carved using a sharp-pointed tool, probably made of flint, by an artist using his or her right hand. The animal's elongated torso has been infilled with irregular-spaced vertical and diagonal lines, whilst the legs and stylised antlers comprise simple lines.