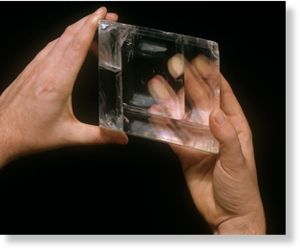 Vikings may have navigated by looking through a type of crystal called Icelandic spar, a new study suggests.
In some Icelandic sagas - embellished stories of Viking life - sailors relied on so-called sunstones to locate the sun's position and steer their ships on cloudy days. (See
Iceland photos
submitted by readers like you.)
The stone would've worked by detecting a property of sunlight called polarization.
Polarization is when light - which normally radiates randomly from its source - encounters something, such as a shiny surface or fog, that causes the rays to assume a particular orientation.
Due to this property, as sunlight moves through the atmosphere, the resulting polarization gives away the direction of the original source of the light.
Detecting light's polarization is a natural ability of some animals, such as bees. (See
"'Weird Beastie' Shrimp Have Super-Vision."
)
In 1969, a Danish archaeologist suggested real-life Vikings might have used sunstones to detect polarized light, using the stones to supplement sundials, stars, and other navigational aids.
Since then, researchers have been probing how such a sunstone might have worked. On that point, though, the sagas were silent.