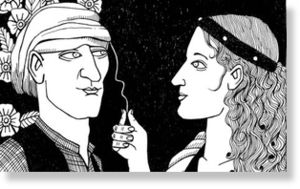 Collection of fairytales gathered by historian Franz Xaver von Schönwerth had been locked away in an archive in Regensburg for over 150 years
A whole new world of magic animals, brave young princes and evil witches has come to light with the discovery of 500 new fairytales, which were locked away in an archive in Regensburg, Germany for over 150 years. The tales are part of a collection of myths, legends and fairytales, gathered by the local historian
Franz Xaver von Schönwerth
(1810 - 1886) in the Bavarian region of Oberpfalz at about the same time as the Grimm brothers were collecting the fairytales that have since charmed adults and children around the world.
Last year, the Oberpfalz cultural curator Erika Eichenseer
published a selection
of fairytales from Von Schönwerth's collection, calling the book
Prinz Roßzwifl
. This is local dialect for "scarab beetle". The scarab, also known as the "dung beetle", buries its most valuable possession, its eggs, in dung, which it then rolls into a ball using its back legs. Eichenseer sees this as symbolic for fairytales, which she says hold the most valuable treasure known to man: ancient knowledge and wisdom to do with human development, testing our limits and salvation.