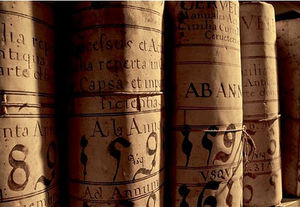 As the confidential correspondence of popes, princes and potentates, the Vatican Secret Archives have been jealously guarded for centuries.
But now 100 of the most historically significant documents held by the Vatican's Secret Archives are to go on public display in Rome - the first and probably last time that they will leave the buttressed stone walls of the tiny city state.
The priceless documents span more than a millennium, from the 8th century to modern times, and feature a cast of historical characters ranging from the Knights Templar to Galileo, Martin Luther and Henry VIII.
They are normally kept in air-conditioned, climate-controlled rooms in the Vatican's Apostolic Palace, which boasts more than 50 miles of shelves, as well as in a high-security underground bunker.
Archivists have gathered them together for an unprecedented exhibition, to be held in Rome's Capitoline Museums, to celebrate the 400th anniversary of the founding of the Secret Archives in their present form.