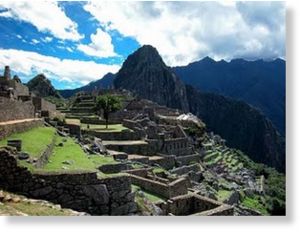 July 25, marks the 100th anniversary of the discovery of the "Lost City" of Machu Picchu.
Hiram Bingham III (1875-1956), historian, explorer, treasure hunter and politician "discovered" the city that the Incas had abandoned 400 years before and which the Spanish conquistadors were never able to find. (He was the inspiration behind Hollywood's Indiana Jones character.) About 1,000 people were living there at the time.
Although other explorers had "found" Machu Picchu years before, Bingham was the first to scientifically explore and publicize the place that had been covered in an overgrowth of jungle trees and vines. The entire April 1913 issue of National Geographic was devoted to his work there. Bingham also wrote about it, notably
Inca Land: Explorations in the Highlands of Peru
(1922) and
Lost City of the Incas
, a 1948 best-seller.
Machu Picchu was revered as a sacred place at a time quite a bit before the Incas "adopted" it as their own. The five-square-mile complex of palaces, baths, temples, storage rooms and about 150 houses arranged around a central plaza was completely self-contained. It was surrounded by agricultural terraces and watered by natural springs that could accommodate the population that lived there. Here is an example of the stone cuttings that were fitted together without mortar. Their construction was well-suited for earthquakes because they could sustain tremors without collapsing.
There is
great speculation about why the Incas built Machu Picchu
. Some say it was an estate and retreat site for Pachacuti and his royal court to relax, hunt and entertain guests.