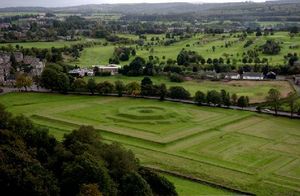 Archaeologists are using the latest scientific techniques this week in an attempt to unravel the mysteries of the King's Knot - one of Scotland's most enigmatic historic sites.
Many stories have been told about this curious geometrical earthen mound just below Stirling Castle - one being that it was the Round Table where King Arthur gathered his knights.
Others have suggested that it might be partly Iron Age or medieval, or was perhaps used as a Roman fort. Then there are those who think it is a natural feature which was modified as recently as the 1620s, when it is known to have been a grand garden feature, highly visible from nearby Stirling Castle.